Mini high temperature and humidity / high and low temperature test chamber
Products Features
Climate Mini series have excellent design and high quality
Full heating observation window
Lead holes on both sides
Triple independent over-temperature protection
High-quality casters facilitate the horizontal movement of the device
Easy to disassemble operation panel, easy maintenance
High stability full color touch screen
Height adjustable sample holder
Safety sample terminal
Super sound-off
Vertical / horizontal type for option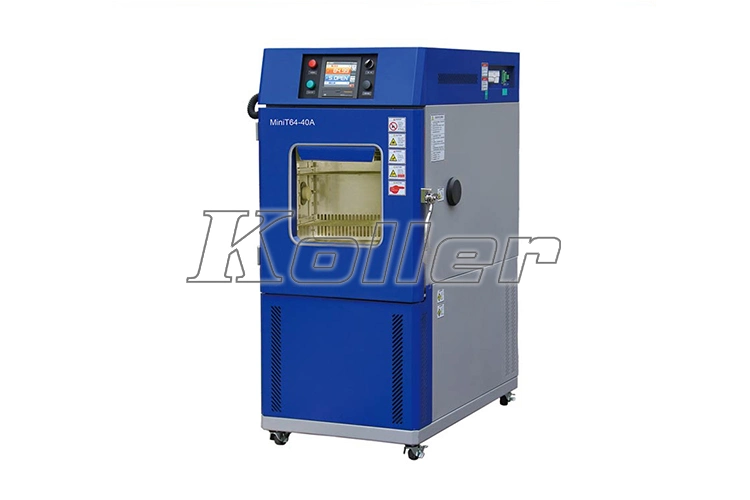 Scope of application
This type of product is simulated product under the combination of climate and temperature and humidity (such as high and low temperature operation & storage, temperature cycle, high temperature and humidity, low temperature and low humidity, condensation test, etc.), to detect whether the product's own adaptability and characteristics are changed.
Need to meet the requirements of international standards (IEC, JIS, GB, MIL...) to achieve consistency in international measurement procedures.
Characteristic
Inside: Double-sided galvanized sheet, anti-static surface.
Outside: stainless steel 304
Insulation: polyurethane and fiberglass
Seal: High purity silicon rubber raw material(Toshiba), effectively prevent aging
Heater: Nickel-chromium alloy heater
Humidifier(C): Outer tube: seamless stainless steel SUS316
Internal heating wire: Nickel-chromium alloy wire
Sample holder: 10kg/floor * 2 floors (standard)
20kg/floor, 30kg/floor
Total capacity
≤
60kg (option)
Refrigeration design
Modular production, reliable quality, easy maintenance
By using silver brazing rods with a silver content of 45% in the vibration pipeline welding, can effectively prevent weld leakage
Enough space for easy operation
Using nitrogen gas during welding to ensure no oxidation inside the tube
Adopting a variety of process for shock absorption
Adopting various processes to prevent rust
Compressor
Tecumseh Compressor of France (original imported)
DANFOSS compressor of Denmark (original imported)
Pressure relay
American EMERSON or Danish DANFOSS
Evaporator
Custom-made high efficiency fin heat exchanger
Solenoid valve
CASTEL of Italy
Refrigerant (HFC Environmental Refrigerant)
R404a
R23 (-70)
Danish DANFOSS Brands
Condenser
Condensation Evaporator (-70)
Evaporation pressure regulator (C)
Thermal expansion valve
Dry filter
Condensation pressure regulator (W)
Control system
Controller
·
5.7 inches 640*480 dot matrix, TFT color LCD display
·
1200 programs which is recyclable
·
RS-485 port, function of remote communication
·
SD storage card to record the data for about 7500 days (sample for 5 min)
·
Language: Chinese or English
Recorder
·
Large LED display
·
High reliability in requirements of industrial recorder
Sample power control terminal
·
When the safety protection device works, the power supply of the power sample is controlled through this terminal.
Safety protection device
·
Compressor
A.Compressor over-voltage
B.Compressor motor overheat
C.Compressor motor overflow (A)
D.Condenser fan motor overheat (W)
·
Waterway (C)
A.Heating pipe dry burning
B.Abnormal of water supply
C.Abnormal of water drain
·
Test sample protection
A.Adjustable overtemperature protection
B.Air conditioning channel limit overtemperature
C.Stop alarm of overtemperature
D.Sample terminal protection
·
Electrical control
A.Fan motor overheat
B.Main power phase sequence protection
C.Electric leakage protection
D.Short circuit protection
Mini Series Product Features Technical Specifications
The main technical parameters
Temperature fluctuation: ≤±0.5°C
Temperature uniformity: ≤2.0°C
Temperature deviation: ≤±2.0°C
Humidity range
20-98% RH (C
Humidity deviation: ≤±3.0%RH (>75%RH)
≤±5.0%RH(<75%RH)(C)
Thermostat and humidity control method: BTHC balanced thermostat and humidity control method (C)
Ambient temperature: +5°C~+35°C
Power Supply (V)AC380±10%V5OHz±0.5Hz
Equipment noise: ≤69dB (measured at 1m in front of the door)
Standard configuration: 1 observation of electrothermal film glass, cable hole
(Φ100)2, sample rack 2 sets,
1 light fixture, 4 casters, sample
Power control terminal 1
Executive standard
GB/T5170.2-2008 temperature test equipment
GB/T5170.5-2008 Damp heat test equipment (C)
GB/T2423.1-2008 (EC68-2-1) Test A
Low temperature test method
GB/T2423.2-2008 (EC68-2-2) Test B
High temperature test method
GB/T2423.3-20061EC68-2-3) Test Ca:
Constant damp heat test (C)
GB/T24234-2008 (EC68-2-30 test Db
Alternating Humidity Test (C)
GJB150.3A-2009 (MIL-STD-810F-2000)
High temperature test
GJB150.4A-2009 (MIL-STD-810F-2000
Low temperature test
GJB150.9A-2009 (MIL-STD-810F-2000)
Damp heat test (Figure 1, Figure 2) (C)
Model

MiniC/T64

MiniC/T180

MiniBT64

-20A/W

-40A/W

-70A/W

-20A/W

-40A/W

-70A/W

-20A/W

-40A/W

-70A/W

Inner Volume(L)

64

180

64

Inner dimension

W

400

600

400

(mm)

H

400

600

400

D

400

500

400

Outside Dimension

W

600

800

560

mm

H

1400

1750

830

D

1004 (T)/ 1344 ( C )

1204 (T)/ 1544 ( C )

1200

Temperature range

MiniC/T**-20:-20°C~+150°C; MiniC/T**-40:-40°C~+150°C; MiniC/T**-70:-70°C~+150°C

Temp Rise time

-20°C~+150°C≤60min; -40°C~+150°C≤60min; -70ºCC~+150°C≤80min

Temp Down time

MiniC/T**-20:+20~-20ºCC≤40min; MiniC/T**-40:+20~-40°C≤60min; MiniC/T**-70:+20~-65ºCC≤60min

Recirculating water flow (t/h) (water-cooled equipment only)

0.6

1

1

1

2

2

0.6

1

1

Main power switch (A)

40

40

63

63

40

Power(kVA)

3.3

4.2

4.2

5.7

8.4

8.4

2

2.2

3.5

Weight(kg)

140

150

180

230

240

290

120

130

160